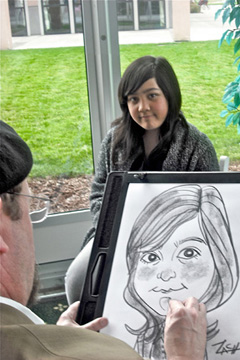 Pre-Printing: Every portrait can include your Event Theme, Company Logo or Product Name, further enhancing them as mementos of your party or promotional event....

Remarkably Fast: 3-4 minutes per person....

Fine Arts Media: Permanent oil-based black pencil on quality 11 X 17 (or 9 X 12) paper. Sketched in B&W for maximum speed & output....

Compact Set-Up: Self-designed easel that's excellent for small venues such as Trade Show Booths, Clubs, Store Promotions, etc....

Professional: Specializing in Corporate Events, Weddings, etc....

Reasonable Rates: Dependent on event location & length of service....

More